Shopping Centres & Retail

Increase Footfall & Customer Engagement
Christmas Creations is trusted by some of the UK's leading shopping centres and retail locations to help increase footfall, sales and customer engagement.
Christmas Creations, the eminent provider of commercial Christmas decorations and retail Christmas decorations in the UK, has earned the trust of some of the UK's premier shopping centres and retail locations. Our renowned Christmas lights decorating service and professional Christmas decorators have been instrumental in not only enhancing the festive spirit but also significantly driving footfall, increasing sales, and promoting customer engagement.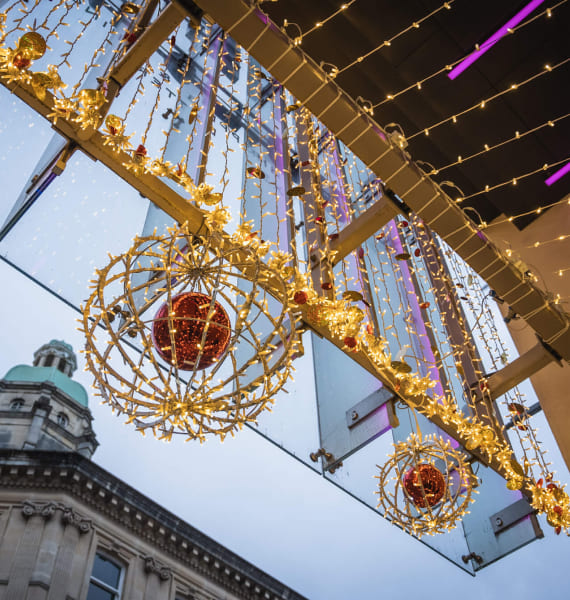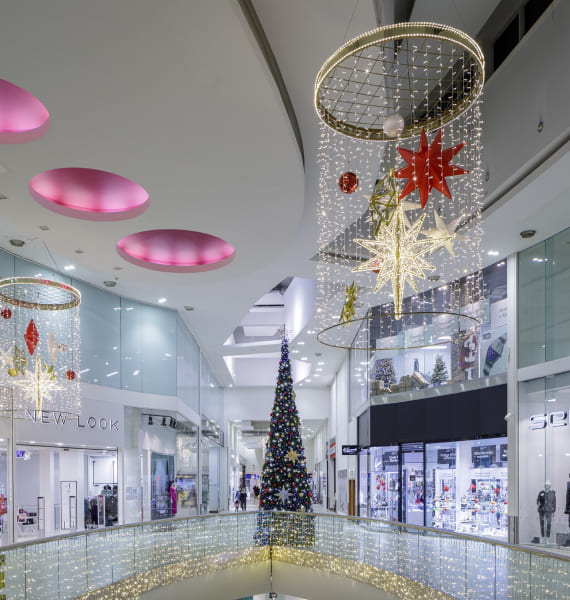 Tailored Decorations for Engaging Experiences
Our tailor-made commercial Christmas decorations and retail Christmas decorations offer a unique blend of tradition and innovation. We understand that every location is different and has its specific needs and we cater to those with an eye for detail and a heart for the Christmas season. Our services are not just about aesthetics; they are aimed at creating an engaging atmosphere that entices visitors, encourages them to linger, and facilitates customer engagement.
Lighting the Way to a Magical Shopping Experience
Our Christmas lights decorating service, helmed by professional Christmas decorators, offers much more than decorative elements. It's about creating a spectacle that lights up people's faces as much as it does your retail space. Our festive lighting solutions are strategically designed to guide customers through your location, creating a sense of wonder that captivates their interest, spurs their shopping spirit, and enhances their overall shopping experience.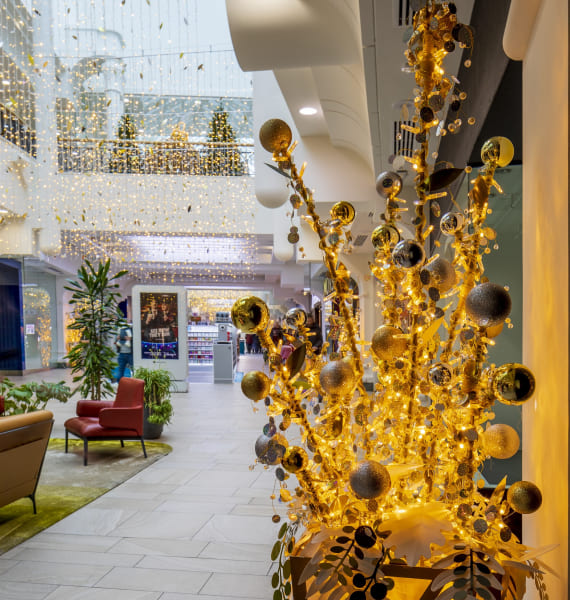 Turning Holiday Magic into Retail Success
At Christmas Creations, we're not just professional Christmas decorators; we're your partners in creating a holiday experience that leaves a lasting impression. Whether it's Commercial Christmas Decorations, Retail Christmas decorations, or an enchanting array of festive lighting, we know how to make the magic of Christmas translate into tangible benefits for your retail location. Trust us to transform your space into a holiday wonderland that attracts, engages, and delights customers, thereby boosting your footfall and sales during the festive season.

Looking for help
with your next project?
While we specialise in the busy Christmas season, we also offer eye-catching seasonal displays and photo opportunities to help boost visitor numbers and customer engagement throughout the year.